Murrey Custom Home / Residential Bowling Lanes
Private Homes, Apartments, Employee and Club Bowling Installations
Murrey Bowling Contractors custom 2 lane installation for the world famous novelist and screenwriter Nicholas Sparks
Murrey Bowling lanes built in the basement next to 3 windows looking into adjacent swimming pool, Beverly Hills, CA
The Marke at South Coast Plaza in Costa Mesa, CA features 2 Murrey Bowling Lanes for all residents of the Marke.
New Boutique Bowling Lanes at the Wyandotte Nations Casino in Oklahoma
Murrey Bowling custom residential 2 lane installation for NBA Basketball Star Paul Pierce #34 of the Boston Celtics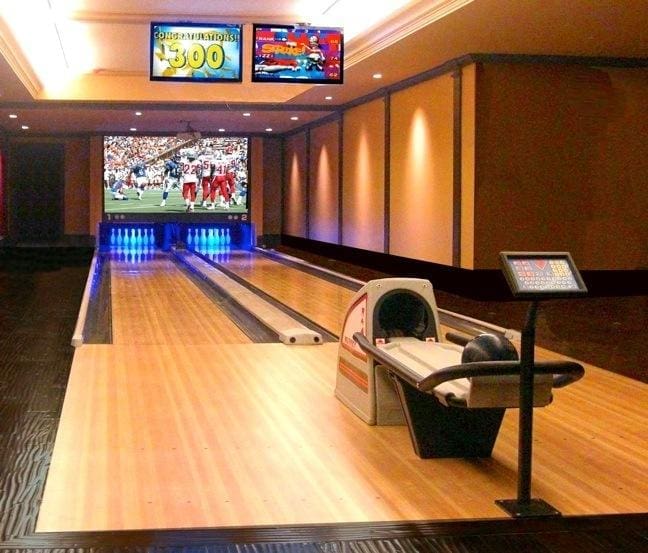 Murrey Bowling Lanes at Hilton Hotels President/CEO Christopher Nassatta residence and grand family game room.
A Murrey Bowling 2 lane installation at a private residence located near the city of Waldren, Missouri.
A Murrey Bowling 2 lane installation at a private residence located on the Palos Verdes Peninsula in Southern California.
An attractive and comfortable 2 lane private residence installation with extra room on both sides of lanes.
A 4 lane private club installation with unique architectural treatment.
An Upscale VIP 4 lane private club installation
A 2 lane private residence installation.
Murrey Bowling Lanes at Google's Corporation's Headquarters Employee Recreation Center – Mountain View, California
At Murrey International, we totally respect the privacy of our valued residential clients and take every precaution to ensure a smooth and seamless installation process with minimal interruption.
As both manufacturers and general building contractors, we are accustomed to working with architects, designers and other contractors in a professional manner to facilitate the proper installation of a functioning bowling alley in the client's house.
Private Residence Bowling Lane Dimensional Design Specifications Generally, we recommend a minimum of 108′ in length and 14′ in width for two in-home bowling alley lanes. Suggested ceiling height is 12' to 14′.
We suggest trenching for the under-lane ball return rack system in order to keep the lanes close to floor level in height if possible. Another option for your residential bowling alley is for us to build up the foundation using our I-Beam construction the same as in commercial installations. This generally requires a step up to the bowling lanes of about 17″.
Our sales staff and installation supervisors will be happy to provide your architect and designer with critical information, options and specifications for proper planning and construction on site.